Quality

Waterjet

Newsletter
–
01/05/2010
Cleanability Factor
The terminology of machinability has been used in the abrasive waterjet cutting technology for many years. A similar terminology for the cleaning industry was also proposed by Conn et al.* back in 1987. The intention was to standardize the relative ability of a water jet for cleaning applications. A parameter called "cleanability factor" or "erosion strength for cleanability", Sc, was used to define the combined character of the substance-to-be-removed and the substrate-to-be-cleaned. A term called "area cleaning effectiveness", ea, was defined as:
ea = Area cleaned per unit time / Power delivered by the nozzle.
It was proposed that for a given nozzle and a fixed set of operating conditions, the value of ea is inversely proportional to that of Sc. The following log-log graph was created based on some pre-existing test data. It shows that the values for comparable substances to be cleaned tend to group closely together. The authors pointed out that this approach was at a very preliminary stage and encouraged further research in this direction.
<![if !vml]>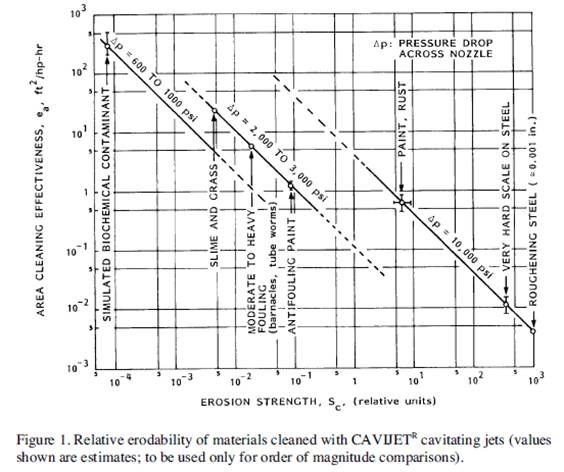 <![endif]>
*Conn, A.F., Gracey, M.T., and Rosenberg, W. (1987) A relative cleanability factor, Proceedings of the fourth U.S. water jet conference, the University of California, Berdeley, August 26-27, 1987, pp 212-216.
QualJet
Quality Waterjet
Spare Parts Specialist
<![if !supportLists]>· <![endif]>Quality Waterjet Spare Parts
<![if !supportLists]>o <![endif]>Meets/exceeds OEM standards
<![if !supportLists]>o <![endif]>30% longer operation life time than competing products
<![if !supportLists]>· <![endif]>Extensive Parts Coverage for:
<![if !supportLists]>o <![endif]>Flow style, IR Style
<![if !supportLists]>o <![endif]>40K/55K pumps
<![if !supportLists]>o <![endif]>Intensifiers
<![if !supportLists]>o <![endif]>On/off valves
<![if !supportLists]>o <![endif]>Cutting head
<![if !supportLists]>o <![endif]>Swivels
<![if !supportLists]>· <![endif]>OEM Expert
<![if !supportLists]>o <![endif]>20+ year waterjet OEM experience (via OH Precision)
<![if !supportLists]>o <![endif]>Accept small OEM order
Durable, Compact 40K PSI Pumps
<![if !supportLists]>· <![endif]>Long operation lifetime
<![if !supportLists]>· <![endif]>Highly cost-effective
<![if !supportLists]>· <![endif]>Light weight and compact
<![if !supportLists]>· <![endif]>Contact us for
<![if !supportLists]>o <![endif]>Custom power end
<![if !supportLists]>o <![endif]>50K psi models
<![if !supportLists]>o <![endif]>Private labeling
<![if !supportLists]>o <![endif]>Custom design
Free Shipping
<![if !supportLists]>· <![endif]>Via UPS Ground
QualJet
12819 SE 38th Street, #240
Bellevue, WA 98006
1-866-QUALJET (782-5538)
Fax: 425-378-7776
Email: info@qualjet.com
Website: www.qualjet.com
To unsubscribe the newsletter: unsubscribe@qualjet.com
For newsletter archive:
www.qualjet.com/Newsletter.htm
Copyright ©2008, QualJet