Quality

Waterjet

Newsletter
–
01/20/2009
Deburring with Waterjets
Waterjets, especially abrasive waterjets, have been known for their versatility and effectiveness in cutting and drilling applications in today's machine shops. A review of an article of 25 years ago by Thiel et al.* serves as a reminder that waterjets can also be effective tools for deburring applications.
This article reported three types of waterjet systems that can be used in deburring applications, categorized by pressure ranges into: wet blasting, water jetting, and jet cutting.
Systems with low pressure (60 psi) and very high flow rates (up to 260 gpm) of water-abrasive mixture were typically used for wet blasting. Compressed air can also be added to create an effect that atomizes the water. Abrasives, preferably silicon carbide, corundum, or glass beads, of 10 to 150 μm in size, do the machining work while the water tends to dampen the abrasive impacts and produces a gentler machining effect than sand blasting. A relatively small nozzle diameter was favored for rounding the edges. Wet blasting is typically used for removing fine burrs resulted from grinding operations.
<![if !vml]>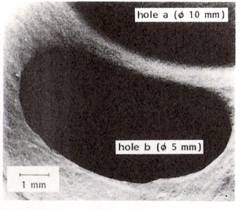 <![endif]>Water jetting was referred to processes involving pressure under 15 kpsi and relatively high flow rate, with or without abrasives. Waterjets at this level of pressure are capable of breaking off burrs even without abrasives, very suitable for removing large-size burrs that can be easily broken of, especially suitable for these scenarios: (1) burrs in small openings; (2) internal burrs; (3) burrs in workpiece cavities. Because of the large jet force, proper clamping of the workpiece must be used. Fan-jets have a lower efficiency and a lower impact force per unit area than round-jets and are used only when their wider span can be justified (e.g. cover the entire workpiece in a single pass). When abrasives are added, the jets are capable of erosive working, even of the edges of hardened steels. Shown in the picture is a deburred edge between two crossing holes.
When the pressure is high enough (e.g. 56 kpsi), the jet is capable of cutting (typically non-metallic materials) and therefore is very suitable for deburring plastic and rubber parts by cutting off the large burrs. Process parameters should be set such that burrs are removed by the kinetic energy of the jet while no damage is made to the nearby surfaces of the workpiece. When abrasives are added, the jet will be capable of cutting metallic materials and can be used to remove thick burrs, typically of parts from castings.
In the concluding section of the article, the authors emphasized that among the several possible waterjet deburring processes, only one is optimal for a specific deburring application. This article did provide some useful guidance in the process selection.
*Thiel, R., Przyklenk, K., & Schlatter, M. (1984) Deburring with water, Proceedings of the 7th International Symposium on Jet Cutting Technology, Ottawa, Canada, June 26-28, 1984, pp 337-352.
Quality Waterjet
Spare Parts Specialist
<![if !supportLists]>· <![endif]>Quality Waterjet Spare Parts
<![if !supportLists]>o <![endif]>Meets/exceeds OEM standards
<![if !supportLists]>o <![endif]>30% longer operation life time than competing products
<![if !supportLists]>· <![endif]>Extensive Parts Coverage for:
<![if !supportLists]>o <![endif]>Flow style, IR Style
<![if !supportLists]>o <![endif]>40K/55K pumps
<![if !supportLists]>o <![endif]>Intensifiers
<![if !supportLists]>o <![endif]>On/off valves
<![if !supportLists]>o <![endif]>Cutting head
<![if !supportLists]>o <![endif]>Swivels
<![if !supportLists]>· <![endif]>OEM Expert
<![if !supportLists]>o <![endif]>20+ year waterjet OEM experience (via OH Precision)
<![if !supportLists]>o <![endif]>Accept small OEM order
Durable, Compact 40K PSI Pumps
<![if !supportLists]>· <![endif]>Long operation lifetime
<![if !supportLists]>· <![endif]>Highly cost-effective
<![if !supportLists]>· <![endif]>Light weight and compact
<![if !supportLists]>· <![endif]>Contact us for
<![if !supportLists]>o <![endif]>Custom power end
<![if !supportLists]>o <![endif]>50K psi models
<![if !supportLists]>o <![endif]>Private labeling
<![if !supportLists]>o <![endif]>Custom design
Free Shipping
<![if !supportLists]>· <![endif]>Via UPS Ground
QualJet
12819 SE 38th Street, #240
Bellevue, WA 98006
1-866-QUALJET (782-5538)
Fax: 425-378-7776
Email: info@qualjet.com
Website: www.qualjet.com
To unsubscribe the newsletter: unsubscribe@qualjet.com
For newsletter archive:
www.qualjet.com/Newsletter.htm
Copyright ©2008, QualJet