Quality

Waterjet

Newsletter
–
10/07/2008
Cutting Hollow Structures
Many applications in waterjet cutting are involved with hollow structures. The hollow space tends to disperse the jet and affects the cut below. Louis & Von Rad(*) did an experimental study on this phenomenon. Here is a review of their findings.
<![if !vml]>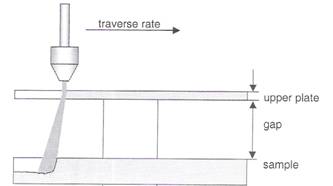 <![endif]>Their experimental setup to simulate a hollow structure is illustrated in the top figure. Cutting tests were done on aluminum (AlMgSi0,5) with a 1-mm abrasive water suspension jet at 70 MPa of pressure and 2 kg/min of 80 mesh garnet. The parameters were chosen so that the sample below the gap was not cut through in order to preserve the evidences of remaining jet potential. The gap was filled with either air or water to study the impact of medium. The results were plotted in the other two figures.
<![if !vml]>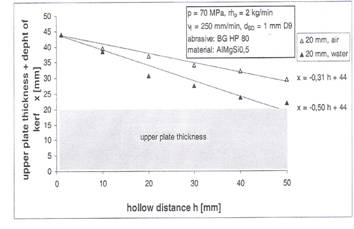 <![endif]>
The reduction of the kerf depth and the increase of the kerf width on the sample were proportional to the size of gap. Compared to air, water made the kerf shallower and narrower because the outer layer of the jet lost energy to the surrounding water. It was also found that the thickness of the upper plate had a small impact to the kerf-depth-vs- gap-size relation (i.e. a thicker upper plate resulted in a <![if !vml]>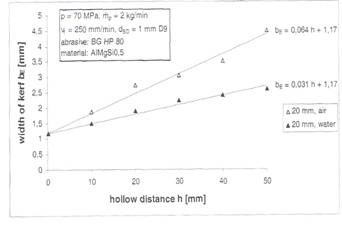 <![endif]>shallower kerf), but a relatively large impact to the kerf-width-vs-gap-size relation (i.e. a thicker upper plate resulted in a wider kerf). The explanation was that the upper plate acted as a "bad" nozzle.
* Louis, H. & Ch Von Rad (2000) "Cutting of hollow structures with abrasive water suspension jets," in Proceedings of the 15th International Conference on Jetting Technology, Ronneby, Sweden, September 6-8, pp59-67.
Quality Waterjet
Spare Parts Specialist
<![if !supportLists]>· <![endif]>Quality Waterjet Spare Parts
<![if !supportLists]>o <![endif]>Meets/exceeds OEM standards
<![if !supportLists]>o <![endif]>30% longer operation life time than competing products
<![if !supportLists]>· <![endif]>Extensive Parts Coverage for:
<![if !supportLists]>o <![endif]>Flow style, IR Style
<![if !supportLists]>o <![endif]>40K/55K pumps
<![if !supportLists]>o <![endif]>Intensifiers
<![if !supportLists]>o <![endif]>On/off valves
<![if !supportLists]>o <![endif]>Cutting head
<![if !supportLists]>o <![endif]>Swivels
<![if !supportLists]>· <![endif]>OEM Expert
<![if !supportLists]>o <![endif]>20+ year waterjet OEM experience (via OH Precision)
<![if !supportLists]>o <![endif]>Accept small OEM order
Durable, Compact 40K PSI Pumps
<![if !supportLists]>· <![endif]>Long operation lifetime
<![if !supportLists]>· <![endif]>Highly cost-effective
<![if !supportLists]>· <![endif]>Light weight and compact
<![if !supportLists]>· <![endif]>Contact us for
<![if !supportLists]>o <![endif]>Custom power end
<![if !supportLists]>o <![endif]>50K psi models
<![if !supportLists]>o <![endif]>Private labeling
<![if !supportLists]>o <![endif]>Custom design
Free Shipping in October
<![if !supportLists]>· <![endif]>Via UPS Ground
QualJet
12819 SE 38th Street, #240
Bellevue, WA 98006
1-866-QUALJET (782-5538)
Fax: 425-378-7776
Email: info@qualjet.com
Website: www.qualjet.com
To unsubscribe the newsletter: unsubscribe@qualjet.com
For newsletter archive:
www.qualjet.com/Newsletter.htm
Copyright ©2005, QualJet LLC