Quality

Waterjet

Newsletter
–
03/11
/200
8
Forming and Welding Using a High Speed Liquid Impact
Liquid impact on a target has a similar effect to the well documented explosive forming and welding. Samardzic et al.* presented an experimental study to prove that.
<![if !vml]>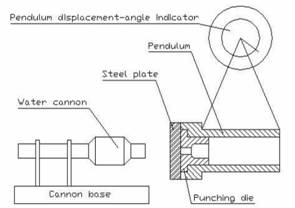 <![endif]>
Their experimental setup was illustrated in the diagram. The target was mounted on a ballistic pendulum to allow impact momentum measurement. In the forming experiments the target was backed by a die while in the welding experiments, the samples to be welded were held by a special holder.
<![if !vml]>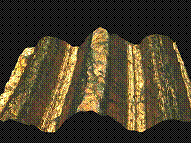 <![endif]>The first forming experiment was to duplicate sub-millimeter circumferential ridges on the die to the target surfaces of brass and copper plates. The water cannon launched 200 g of water with 30 g of gunpowder at a stand-off distance of 16 cm. The projectile velocity at the impact was calculated to be 1500 m/s. The circumferential ridges were accurately reproduced on both brass and copper samples (see picture of ridges on the copper sample). In the second forming (stamping) experiment, a conventional coin was used as the die. The 3D profile of the coin was accurately reproduced on target materials including copper, brass, aluminum and high ductility steel.
<![if !vml]>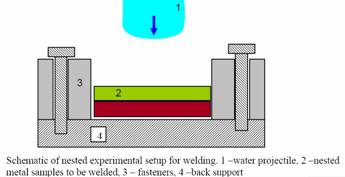 <![endif]>
In the welding experiments, the samples were held by the special holder as shown. The combinations of metal samples include: Copper-Nickel-Copper, Brass-Nickel-Brass, Copper-Copper, and Copper-Steel. The projectile speed used for welding experiments was in the range of 750-850 m/s because it was found this lower range of speed produced a stronger joint. It was also found that separation of the sample parts provided a better condition for welding. Ultrasonic technique was used to examine the welded interface. Out of the 20 experiments only one was not successful. The welding mechanism was attributed to the superposition and propagation of the compression and rarefaction waves generated by the impact which causes melting of the interface.
* Samardzic et al. (2007) "Investigation of Metal Processing Using a High Speed Liquid Impact", Proceedings of 2007 American WJTA Conference and Expo, August 19-21, Houston, Texas, Paper 2-D.
Quality Waterjet
Spare Parts Specialist
<![if !supportLists]>· <![endif]>Quality Waterjet Spare Parts
<![if !supportLists]>o <![endif]>Meets/exceeds OEM standards
<![if !supportLists]>o <![endif]>30% longer operation life time than competing products
<![if !supportLists]>· <![endif]>Extensive Parts Coverage for:
<![if !supportLists]>o <![endif]>Flow style, IR Style
<![if !supportLists]>o <![endif]>40K/55K pumps
<![if !supportLists]>o <![endif]>Intensifiers
<![if !supportLists]>o <![endif]>On/off valves
<![if !supportLists]>o <![endif]>Cutting head
<![if !supportLists]>o <![endif]>Swivels
<![if !supportLists]>· <![endif]>OEM Expert
<![if !supportLists]>o <![endif]>20+ year waterjet OEM experience (via OH Precision)
<![if !supportLists]>o <![endif]>Accept small OEM order
Durable, Compact 40K PSI Pumps
<![if !supportLists]>· <![endif]>Long operation lifetime
<![if !supportLists]>· <![endif]>Highly cost-effective
<![if !supportLists]>· <![endif]>Light weight and compact
<![if !supportLists]>· <![endif]>Contact us for
<![if !supportLists]>o <![endif]>Custom power end
<![if !supportLists]>o <![endif]>50K psi models
<![if !supportLists]>o <![endif]>Private labeling
<![if !supportLists]>o <![endif]>Custom design
QualJet LLC
12819 SE 38th Street, #240
Bellevue, WA 98006
1-866-QUALJET (782-5538)
Fax: 425-378-7776
Email: info@qualjet.com
Website: www.qualjet.com
To unsubscribe the newsletter: unsubscribe@qualjet.com
For newsletter archive:
www.qualjet.com/Newsletter.htm
Copyright ©2005, QualJet LLC