Quality

Waterjet

Newsletter
–
01/15
/200
8
Pressure Fluctuation and Control of Intensifier Pumps
Trieb et al* presented an experimental study on the topic of pressure fluctuation and control of intensifier pumps. Here are the highlights of the results.
<![if !vml]>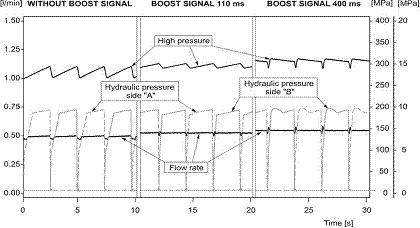 <![endif]>
In the operation of a double-acting intensifier pump, there is an output flow delivery gap at the reversal point of the plunger. This delivery gap causes fluctuations of pressure and flow, which negatively affects cutting performance and machine fatigue life.
<![if !vml]>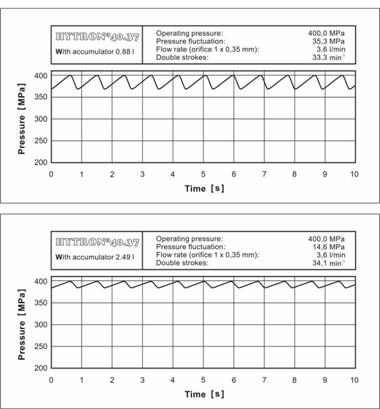 <![endif]>Using a servo hydraulic control system can control the hydraulic flow independent of pressure and thus manipulate the acceleration phase of the plunger after the change of direction. Experiments were done on an intensifier pump equipped with such a servo control, at 11 kW power rate, 350 MPa operating pressure and 1.0 l/min output flow rate. Three cases of control signal (boost signal) were tested: without boost signal, boost signal 110 ms, and boost signal 400 ms. The top graph shows that the optimum condition is with boost signal of 110 ms.
Using an accumulator is a popular method to reduce pressure fluctuation. A 0.88 liter accumulator reduced the pressure fluctuation from 150 Mpa to 35 Mpa (graph at the middle). A 2.49 liter accumulator reduced it further down to 15 Mpa (graph at the bottom).
*Trieb, F., Karl, R., & Moderer, R. (2007) Pressure and flow rate fluctuations at high pressure intensifier pumps, Proceedings of the 2007 American WJTA Conference and Expo, August 19-21, 2007, Houston, Texas, Paper 3-I.
Quality Waterjet
Spare Parts Specialist
<![if !supportLists]>· <![endif]>Quality Waterjet Spare Parts
<![if !supportLists]>o <![endif]>Meets/exceeds OEM standards
<![if !supportLists]>o <![endif]>30% longer operation life time than competing products
<![if !supportLists]>· <![endif]>Extensive Parts Coverage for:
<![if !supportLists]>o <![endif]>Flow style, IR Style
<![if !supportLists]>o <![endif]>40K/55K pumps
<![if !supportLists]>o <![endif]>Intensifiers
<![if !supportLists]>o <![endif]>On/off valves
<![if !supportLists]>o <![endif]>Cutting head
<![if !supportLists]>o <![endif]>Swivels
<![if !supportLists]>· <![endif]>OEM Expert
<![if !supportLists]>o <![endif]>20+ year waterjet OEM experience (via OH Precision)
<![if !supportLists]>o <![endif]>Accept small OEM order
Durable, Compact 40K PSI Pumps
<![if !supportLists]>· <![endif]>Long operation lifetime
<![if !supportLists]>· <![endif]>Highly cost-effective
<![if !supportLists]>· <![endif]>Light weight and compact
<![if !supportLists]>· <![endif]>Contact us for
<![if !supportLists]>o <![endif]>Custom power end
<![if !supportLists]>o <![endif]>50K psi models
<![if !supportLists]>o <![endif]>Private labeling
<![if !supportLists]>o <![endif]>Custom design
QualJet LLC
12819 SE 38th Street, #240
Bellevue, WA 98006
1-866-QUALJET (782-5538)
Fax: 425-378-7776
Email: info@qualjet.com
Website: www.qualjet.com
To unsubscribe the newsletter: unsubscribe@qualjet.com
For newsletter archive:
www.qualjet.com/Newsletter.htm
Copyright ©2005, QualJet LLC