Quality Waterjet Newsletter
–
12/05
/200
6
Fan Jet Characteristics
<![if !vml]>
<![endif]>
Shimizu* recently published a paper on the subject of structure and erosive characteristics of fan jets. Here are the highlights.
<![if !vml]>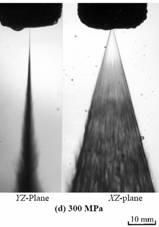 <![endif]>Fan jets were produced with nozzles like the one shown in the picture. This nozzle has a conical convergent inlet section with a 84° convergent angle. The outlet face of the nozzle has a 52° triangular notch. In the center is an elliptic hole with major/minor diameters of 0.43 mm/ 0.33mm (for a nominal diameter of 0.33 mm nozzle).
Instantaneous photographs of the fan jets, with pressure varying from 70 to 300 MPa, were taken from two directions with an exposure time of 1.5 µs. The jet shown in the picture was at pressure 300 MPa. It has a spreading angle of approximately 24°. Below a region of transparent liquid sheet is a region with streak structures of water droplets, where practical coating removal takes place.
<![if !vml]>

<![endif]>A stationary fan jet produces a line segment type of damage on the target material. The erosive intensity is fairly even when the jet operates immediately downstream of the liquid sheet and then gradually becomes uneven as the distance increases. The erosive power of a moving fan jet is also the highest immediately downstream of the liquid sheet. Shown in the picture is the topography of a damaged mild steel specimen by a moving fan jet at 300 MPa and 400 mm/min, with a standoff of 20 mm.
* Shimizu, S. (2006) Structure and erosive characteristics of water jet issuing from fan jet nozzle, in Peter Longman (Ed.), Proceedings of the 18th International Conference on Water Jetting, Gdansk, Poland, September 2006, pp 337-345.
Beyond High Pressure
Used Husky and Eagle pumps on sale.

Contact Mr.

Vittorio

Perregrini

of

FlowSwiss

at [41]91-935-9191, or perregrini@flowswiss.com for quote.

Fredrick Equipment

, a recognized distributor of high pressure piping components, is proud to offer QualJet/

OHP's

line of waterjet pumps and OEM replacement parts along with sapphire and diamond orifice replacements, tools, gauges, and accessories. Call toll-free at 1-888-928-3758.
Quality Waterjet
Spare Parts Specialist
<![if !supportLists]>· <![endif]>Quality Waterjet Spare Parts
<![if !supportLists]>o <![endif]>Meets/exceeds OEM standards
<![if !supportLists]>o <![endif]>30% longer operation life time than competing products
<![if !supportLists]>· <![endif]>Extensive Parts Coverage for:
<![if !supportLists]>o <![endif]>Flow style, IR Style
<![if !supportLists]>o <![endif]>40K/55K pumps
<![if !supportLists]>o <![endif]>Intensifiers
<![if !supportLists]>o <![endif]>On/off valves
<![if !supportLists]>o <![endif]>Cutting head
<![if !supportLists]>o <![endif]>Swivels
<![if !supportLists]>· <![endif]>OEM Expert
<![if !supportLists]>o <![endif]>20+ year waterjet OEM experience (via OH Precision)
<![if !supportLists]>o <![endif]>Accept small OEM order
Durable, Compact 40K PSI Pumps
<![if !supportLists]>· <![endif]>Long operation lifetime
<![if !supportLists]>· <![endif]>Highly cost-effective
<![if !supportLists]>· <![endif]>Light weight and compact
<![if !supportLists]>· <![endif]>Contact us for
<![if !supportLists]>o <![endif]>Custom power end
<![if !supportLists]>o <![endif]>50K psi models
<![if !supportLists]>o <![endif]>Private labeling
<![if !supportLists]>o <![endif]>Custom design
QualJet LLC
12819 SE 38th Street, #240
Bellevue, WA 98006
1-866-QUALJET (782-5538)
Fax: 425-378-7776
Email: info@qualjet.com
Website: www.qualjet.com
To unsubscribe the newsletter: unsubscribe@qualjet.com
For newsletter archive:
www.qualjet.com/Newsletter.htm
Copyright ©2005, QualJet LLC