Quality Waterjet Newsletter
–
10/10
/200
6
Abrasive Contamination on AWJ Cut Surfaces
AWJ cutting produces a sand-blasted-like surface. Abrasive contamination becomes a concern in some applications, especially in aerospace industry. Patel and Chen* conducted an experimental study on this issue, trying to quantify it and provide a solution as well. It is a great effort in their study and the results are interesting. But some of the writings are a bit confusing. The main points are highlighted here.
Aluminum samples of 20 mm in thickness were cut at 345 MPa (50 kpsi) and 2 mm/s as well as at 380 MPa (55 kpsi) and 3 mm/s. The cutting was done with two different ways: "straight cut" (constant speed) and "oscillation cut" (nozzle wiggling in the cutting direction at 3 Hz and 2.5° as well as 4 Hz and 3.5°). Scanning electronic microscopy (SEM) and advanced image processing technique were used to conduct quantitative microstructure analysis on the cut surfaces. Along the cutting depth, 5 SEM images (each 1.2 x 1.4 mm) were taken, summing up to a total of 120 SEM images for this study.
<![if !vml]>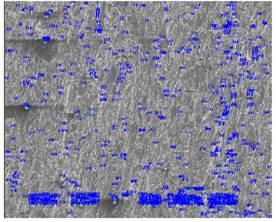 <![endif]><![if !vml]>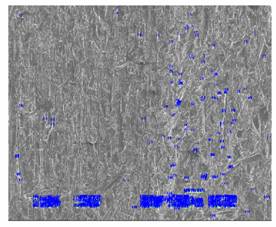 <![endif]>
<![if !vml]>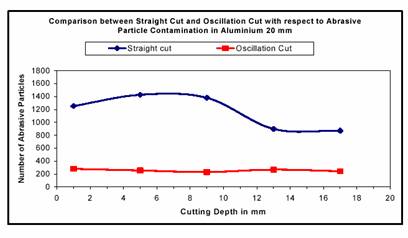 <![endif]>The photos above show the particle counts for "straight cut" (Left) and "oscillation cut" (Right). The chart gives a quantitative comparison. Their conclusion is that oscillation cut can reduce abrasive contamination by ten times, but it will not completely eliminate it.
* Patel, K. & Chen, F. (2003) Quantitative study of abrasive contamination in a ductile material during abrasive aqua jet machining (AAJM), in Proceedings of the 2003 WJTA American Waterjet Conference, Houston, Texas, August 17-19, paper 2-D.
Quality Waterjet
Spare Parts Specialist
<![if !supportLists]>· <![endif]>Quality Waterjet Spare Parts
<![if !supportLists]>o <![endif]>Meets/exceeds OEM standards
<![if !supportLists]>o <![endif]>30% longer operation life time than competing products
<![if !supportLists]>· <![endif]>Extensive Parts Coverage for:
<![if !supportLists]>o <![endif]>Flow style, IR Style
<![if !supportLists]>o <![endif]>40K/55K pumps
<![if !supportLists]>o <![endif]>Intensifiers
<![if !supportLists]>o <![endif]>On/off valves
<![if !supportLists]>o <![endif]>Cutting head
<![if !supportLists]>o <![endif]>Swivels
<![if !supportLists]>· <![endif]>OEM Expert
<![if !supportLists]>o <![endif]>20+ year waterjet OEM experience (via OH Precision)
<![if !supportLists]>o <![endif]>Accept small OEM order
Durable, Compact 40K PSI Pumps
<![if !supportLists]>· <![endif]>Long operation lifetime
<![if !supportLists]>· <![endif]>Highly cost-effective
<![if !supportLists]>· <![endif]>Light weight and compact
<![if !supportLists]>· <![endif]>Contact us for
<![if !supportLists]>o <![endif]>Custom power end
<![if !supportLists]>o <![endif]>50K psi models
<![if !supportLists]>o <![endif]>Private labeling
<![if !supportLists]>o <![endif]>Custom design
QualJet LLC
12819 SE 38th Street, #240
Bellevue, WA 98006
1-866-QUALJET (782-5538)
Fax: 425-378-7776
Email: info@qualjet.com
Website: www.qualjet.com
To unsubscribe the newsletter: unsubscribe@qualjet.com
For newsletter archive:
www.qualjet.com/Newsletter.htm
Copyright ©2005, QualJet LLC