Quality Waterjet Newsletter
–
9/27
/2005
A Hybrid Pump of Direct Drive and Intensifier
– An 22-year Old Idea
From time to time, it is interesting and necessary to look back to the history. WJTA has offered us the convenience of reading the earlier literature by putting the proceedings of the first four WJTA conferences online (www.wjta.org). This article will review a paper by Nakaya et al.*, presented on the 2nd WJTA conference.
These two types of high-pressure pumps are the most popular in the current waterjet industry: intensifier and direct drive. Intensifier pumps have the advantage of easy adjustment of operating pressure, while the direct drive pumps are superior in efficiency. This paper described a hybrid pump of direct drive and intensifier.
In this hybrid pump, as illustrated in the following diagram, a hydraulic cushion cylinder was added between the crankshaft and the plunger, compared to a typical direct drive pump. The hydraulic pressure in the cushion cylinder P1 and the output water pressure at the plunger side P2 follows the same principle as that of an intensifier pump: P1×A1 = P2×A2. Therefore, the output pressure P2 can be easily adjusted by changing P2 with a relief valve in the hydraulic circuit.
<![if !vml]>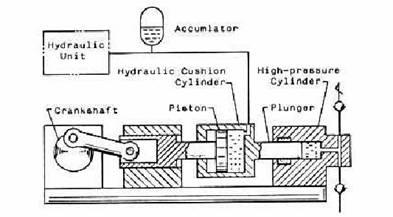 <![endif]>
Compared to an intensifier pump, this hybrid pump has slightly higher efficiency (86% vs 77%). Its pressure pulsation is also less. The size of accumulator is only 70% of that in an intensifier pump. Compared to a direct drive pump, it gains the advantage of easy pressure adjustment that is typically found on an intensifier pump.
Everyone can have his/her opinion about this idea. Nevertheless, this paper is a great source of information if you want to know how direct drive and intensifier pumps work.
*Nakaya, M., Nishida, N., and Kitagawa, T., " Development of variable delivery triple reciprocating plunger pump for water jet cutting," Proceedings of the 2nd U.S. Water Jet Conference, Rolla, Missouri, May 24-26, 1983, pp. 136-147
More For Less: Spare Parts on Sale
<![if !supportLists]>· <![endif]>Flow-style High Pressure Seal Kit (55K, 40K) at $90 (saving of $20).
<![if !supportLists]>· <![endif]>Flow-style Check Valve Body (55) at $260 (saving of $55).
<![if !supportLists]>· <![endif]>Flow-style Check Valve Repair Kit (55K HO) at $68 (saving of $20).
<![if !supportLists]>· <![endif]>IR-style On/Off Valve Repair Kit at $100 (saving of $15).
<![if !supportLists]>· <![endif]>Contact info@qualjet.com
Quality Waterjet
Spare Parts Specialist
<![if !supportLists]>· <![endif]>Quality Waterjet Spare Parts
<![if !supportLists]>o <![endif]>Meets/exceeds OEM standards
<![if !supportLists]>o <![endif]>30% longer operation life time than competing products
<![if !supportLists]>· <![endif]>Extensive Parts Coverage for:
<![if !supportLists]>o <![endif]>Flow style, IR Style
<![if !supportLists]>o <![endif]>40K/55K pumps
<![if !supportLists]>o <![endif]>Intensifiers
<![if !supportLists]>o <![endif]>On/off valves
<![if !supportLists]>o <![endif]>Cutting head
<![if !supportLists]>o <![endif]>Swivels
<![if !supportLists]>· <![endif]>OEM Expert
<![if !supportLists]>o <![endif]>20+ year waterjet OEM experience (via OH Precision)
<![if !supportLists]>o <![endif]>Accept small OEM order
Durable, Compact 40K PSI Pumps
<![if !supportLists]>· <![endif]>Long operation lifetime
<![if !supportLists]>· <![endif]>Highly cost-effective
<![if !supportLists]>· <![endif]>Light weight and compact
<![if !supportLists]>· <![endif]>Contact us for
<![if !supportLists]>o <![endif]>Custom power end
<![if !supportLists]>o <![endif]>50K psi models
<![if !supportLists]>o <![endif]>Private labeling
<![if !supportLists]>o <![endif]>Custom design
QualJet LLC
12819 SE 38th Street, #240
Bellevue, WA 98006
1-866-QUALJET (782-5538)
Fax: 425-378-7776
Email: info@qualjet.com
Website: www.qualjet.com
To unsubscribe the newsletter: unsubscribe@qualjet.com
For newsletter archive:
www.qualjet.com/Newsletter.htm
Copyright ©2005, QualJet LLC