Quality Waterjet Newsletter
–
09/25
/200
7
Coating Removal Parameters
Wright et al.* presented a paper on parameters that affects surface preparation on the 2007 WJTA conference. Here are the highlights.
A series of coating removal tests were conducted on commercial grade coated steel siding
<![if !vml]>

<![endif]>trim sections at 240 MPa (35,000 psi) and flow rates of 11 to 22 lpm (3 to 6 gpm). <![if !vml]>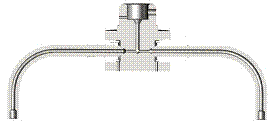 <![endif]>Removal effectiveness was judged by visual estimation of the percentage removal of the top coating and the primer. Two different types of heads were used in these tests: bar head and bent arms (see pictures). Several parameters were varied during the tests and the results are summarized here.
<![if !supportLists]>· <![endif]>Standoff Distance: When the standoff distance is less than 18 to 42 times the orifice diameter for the bar heads and up to 67 times the orifice diameter for the bent arms, the jet is too close to be effective. The most effective removal with the bar head occurred with standoff distance to be 65 to 95 times the orifice diameter.
<![if !supportLists]>· <![endif]>Rotation Speed: As a function of the jet path diameter and rpm, the linear velocity that the jet is moving has a direct impact to the removal effectiveness. The level of its impact also depends on four other parameters --- standoff distance, orifice diameter, feed rate, and head design. As a general trend, the linear velocity of the nozzle should be no more than 20 m/sec (66 ft/sec).
<![if !supportLists]>· <![endif]> Feed Rate and Jet Path Diameter: Feed rate is the most significant parameter affecting removal effectiveness. Obviously increasing feed rate caused decrease of removal effectiveness. Theoretically the feed rate can be calculated with this formula: Feed Rate = Orifice Diameter • Number of Jets • rpm. But because the jet path diameter is not accounted for in this formula, a multiplication factor should be considered, with 1.5 for the largest bar head and 3 for the smallest.
<![if !supportLists]>· <![endif]>Jet Angle: A 5 degree outward jet angle improved the coating removal by 15 – 20%.
<![if !supportLists]>· <![endif]>Head Design: Compared to the bar head, the bent arm head improved the efficiency of coating removal by 25 to 30 percent.
* Wright, D., Wolgamott, J., Zink, G. (2007) PARAMETERS AFFECTING SURFACE PREPARATION, in Mahamed Hashish (ed.), Proceedings of the 2007 American WJTA Conference and Expo, August 19-21, Houston, Texas, Paper 2-A.
Beyond High Pressure
High Pressure Cylinder (60K) for Flow-Style intensifier is on sale. Purchase made before 9/28 will receive $150 off the listed price. Please email your purchase order to sales@qualjet.com for immediate assistance.
Quality Waterjet
Spare Parts Specialist
<![if !supportLists]>· <![endif]>Quality Waterjet Spare Parts
<![if !supportLists]>o <![endif]>Meets/exceeds OEM standards
<![if !supportLists]>o <![endif]>30% longer operation life time than competing products
<![if !supportLists]>· <![endif]>Extensive Parts Coverage for:
<![if !supportLists]>o <![endif]>Flow style, IR Style
<![if !supportLists]>o <![endif]>40K/55K pumps
<![if !supportLists]>o <![endif]>Intensifiers
<![if !supportLists]>o <![endif]>On/off valves
<![if !supportLists]>o <![endif]>Cutting head
<![if !supportLists]>o <![endif]>Swivels
<![if !supportLists]>· <![endif]>OEM Expert
<![if !supportLists]>o <![endif]>20+ year waterjet OEM experience (via OH Precision)
<![if !supportLists]>o <![endif]>Accept small OEM order
Durable, Compact 40K PSI Pumps
<![if !supportLists]>· <![endif]>Long operation lifetime
<![if !supportLists]>· <![endif]>Highly cost-effective
<![if !supportLists]>· <![endif]>Light weight and compact
<![if !supportLists]>· <![endif]>Contact us for
<![if !supportLists]>o <![endif]>Custom power end
<![if !supportLists]>o <![endif]>50K psi models
<![if !supportLists]>o <![endif]>Private labeling
<![if !supportLists]>o <![endif]>Custom design
QualJet LLC
12819 SE 38th Street, #240
Bellevue, WA 98006
1-866-QUALJET (782-5538)
Fax: 425-378-7776
Email: info@qualjet.com
Website: www.qualjet.com
To unsubscribe the newsletter: unsubscribe@qualjet.com
For newsletter archive:
www.qualjet.com/Newsletter.htm
Copyright ©2005, QualJet LLC