Quality Waterjet Newsletter
–
8/30
/2005
Unusual Cut – Waterjet At Surgeon's Hand
Waterjet cuts virtually anything. Have you ever tried it on human body? Granick et al.* answered this question in his paper --- "Medical Applications of the High Powered Parallel Waterjet" --- in the 2005 WJTA American Waterjet Conference, hold in Houston last week. This paper won the Best Technical Paper Award in the conference.
This paper described a tool, called "VersaJet", which uses waterjet for wound debridement. Debridement is referred to surgical removal of infected or otherwise non-viable tissue so that the remaining healthy tissue has a better chance for healing.
When a surgeon operates this tool over the wound, as shown in the diagram, a 15,000 psi waterjet will come out from the orifice at the end and shoot, parallel to the wound surface, into a collector tube. By properly adjusting the pressure, the waterjet can selectively cut away unwanted tissues. The waterjet will also create a Venturi effect at the wound area, which will suck away the debris. The jet is fully contained so that the risk of impinging on uninvolved areas is minimized.
<![if !vml]>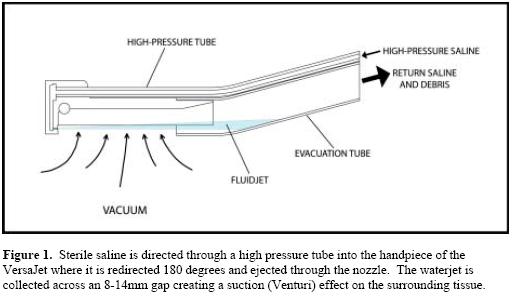 <![endif]>
Use of sterile fluid as the cutting media is a must for this device. It also demands absolute cleanliness in the fluid circuit to avoid clogging the orifice. For these reasons, that part of the system that contains the sterile fluid is single-use only. The VersaJet device has the approval from FDA as a wound debridement instrument.
* Mark S. Granick, M.D., Ramazi O. Datiashvili, M.D., Parham A. Ganchi, M.D., PhD., and Donald C. Freeman, Jr., PhD, "Medical Applications of the High Powered Parallel Waterjet," Proceedings of the 2005 WJTA American Waterjet Conference, Houston, Texas, August 21-23, 2005.
New Book Announcement
<![if !supportLists]>· <![endif]>A new book entitled "High Pressure Pumps" written by Michael T. Gracey can now be ordered at 15% discount online. Order form is available at http://www.qualjet.com/HighPressurePumps.pdf.
Quality Waterjet
Spare Parts Specialist
<![if !supportLists]>· <![endif]>Quality Waterjet Spare Parts
<![if !supportLists]>o <![endif]>Meets/exceeds OEM standards
<![if !supportLists]>o <![endif]>30% longer operation life time than competing products
<![if !supportLists]>· <![endif]>Extensive Parts Coverage for:
<![if !supportLists]>o <![endif]>Flow style, IR Style
<![if !supportLists]>o <![endif]>40K/55K pumps
<![if !supportLists]>o <![endif]>Intensifiers
<![if !supportLists]>o <![endif]>On/off valves
<![if !supportLists]>o <![endif]>Cutting head
<![if !supportLists]>o <![endif]>Swivels
<![if !supportLists]>· <![endif]>OEM Expert
<![if !supportLists]>o <![endif]>20+ year waterjet OEM experience (via OH Precision)
<![if !supportLists]>o <![endif]>Accept small OEM order
Durable, Compact 40K PSI Pumps
<![if !supportLists]>· <![endif]>Long operation lifetime
<![if !supportLists]>· <![endif]>Highly cost-effective
<![if !supportLists]>· <![endif]>Light weight and compact
<![if !supportLists]>· <![endif]>Contact info@qualjet.com for
<![if !supportLists]>o <![endif]>Custom power end
<![if !supportLists]>o <![endif]>50K psi models
<![if !supportLists]>o <![endif]>Private labeling
QualJet LLC
12819 SE 38th Street, #240
Bellevue, WA 98006
1-866-QUALJET (782-5538)
Fax: 425-378-7776
Email: info@qualjet.com
Website: www.qualjet.com
To unsubscribe the newsletter: unsubscribe@qualjet.com
For newsletter archive:
www.qualjet.com/Newsletter.htm
Waterjets or parts for sale:
Industry jobs: qualjet.com/IndustryJobs.htm
Copyright ©2005, QualJet LLC