Quality Waterjet Newsletter
–
8/16
/2005
New Cost-Effective 40K psi Direct Drive Pumps
QualJet proudly introduces two handsome and masculine high-pressure pumps from OHPrecision. The same technology that has been serving the ultrahigh-pressure waterjet cutting industry in the last two decodes is now available to high pressure cleaning. The same high pressure seals that endure 55K psi pressure can now be soothed in 40K psi. The pumps are compact and quiet, yet strong and rugged, featuring:
Triplex plunger

Drive shaft with double projection

Hipped ceramic plungers

Very easy field maintenance

Energy efficient

Low operation cost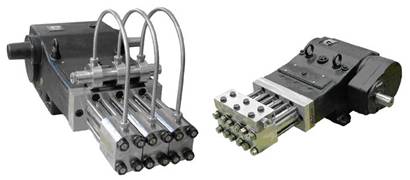 We invite you to visit our booth (#83) to check them out during next week's WJTA Conference and Exhibition (August 21-23, 2005 at the Marriott Westchase Hotel in Houston, TX ). We offer HOT show prices with more than 30% discount!!!
Book Review – Part Three
Trouble shooting of high pressure pumps and systems:
· Relief Valve: Relief valves or rupture disks help protect pumps from failure due to excessive pressure and must be installed in the discharge piping before any control valves. Operation without a properly set and installed relief valve is dangerous and can cause loss of life and damage to the high-pressure system.
· Start-up: To start the high-pressure pump, open the suction and discharge line valves and roll the pump over by hand to permit fluid to fill the fluid cylinder. If rolling the pump by hand is not possible, bump the motor or engine clutch to make the pump turn momentarily. Bleed all the air from the system by removing the discharge hose or disconnecting the discharge line, if possible. Trapped air can cause the pump to run rough so before running the pump continuously, eliminate trapped air and insure that the high-pressure pump is getting sufficient fluid.
Excerpt from Chapter 11, Trouble Shooting, of High Pressure Pumps & Systems by Michael Gracey, with the courtesy of the author. You can meet the author at the WJTA Conference in Houston.
Quality Waterjet
Spare Parts Specialist
· Quality Waterjet Spare Parts
o Meets/exceeds OEM standards
o 30% longer operation life time than competing products
· Extensive Parts Coverage for:
o Flow style, IR Style
o 40K/55K pumps
o Intensifiers
o On/off valves
o Cutting head
o Swivels
· OEM Expert
o 20+ year waterjet OEM experience (via OH Precision)
o Accept small OEM order
Q2 Promotion
· 20% discount for any in-stock inventory
· Contact info@qualjet.com for details.
QualJet LLC
12819 SE 38th Street, #240
Bellevue, WA 98006
1-866-QUALJET (782-5538)
Fax: 425-378-7776
Email: info@qualjet.com
Website: www.qualjet.com
To unsubscribe the newsletter: unsubscribe@qualjet.com
For newsletter archive:
www.qualjet.com/Newsletter.htm
Waterjets or parts for sale:
Industry jobs: qualjet.com/IndustryJobs.htm
Copyright ©2005, QualJet LLC