Quality

Waterjet

Newsletter
–
08/07
/200
7
Low Pressure (5-20 kpsi) AWJ Cutting
<![if !vml]>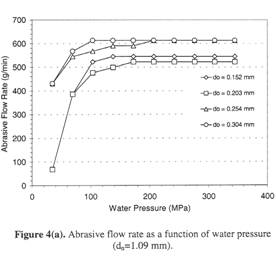 <![endif]>Low pressure AWJ cutting may be preferred in some applications when other factors (such as system size) are more important than cutting speed. Taggart et al.* conducted an experimental study in the range of 35-140 MPa (5-20 kpsi) to characterize low pressure AWJ cutting.
One problem associated with low pressure AWJ cutting is that the nozzle may not generate enough vacuum to suck in abrasive. A series of tests were done to determine the vacuum levels of the nozzle as well as the maximum abrasive flow rates that were allowed by the vacuum condition. The graphs show the allowable abrasive flow rates at different pressures and nozzle sizes.
<![if !vml]>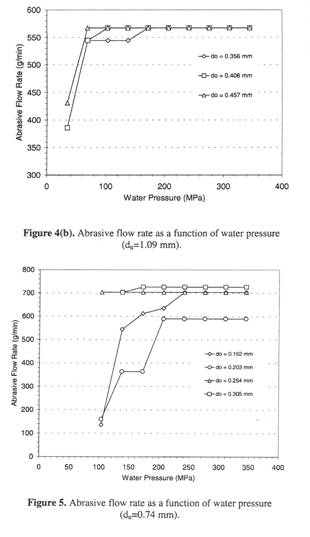 <![endif]>An empirical cutting model (below) was developed based on 28 tests with different orifice diameters, mixing tube diameters, abrasive flow rates, and pressures (34-103 MPa).
<![if !vml]>

<![endif]>
where h: depth of cut, mm; P: pressure, MPa; do: orifice, mm; dn: mixing tube, mm; ma: abrasive flow rate, g/min; u: cutting speed, mm/min.
* Taggart, D.G., Nanduri, M., & Kim, T.J. (1999) Characterization of low pressure AWJ cutting, in Mohamed Hashish Ed.), Proceedings of the 10th American Waterjet Conference, Houston, Texas, August 14-17, Paper 11.
Quality Waterjet
Spare Parts Specialist
<![if !supportLists]>· <![endif]>Quality Waterjet Spare Parts
<![if !supportLists]>o <![endif]>Meets/exceeds OEM standards
<![if !supportLists]>o <![endif]>30% longer operation life time than competing products
<![if !supportLists]>· <![endif]>Extensive Parts Coverage for:
<![if !supportLists]>o <![endif]>Flow style, IR Style
<![if !supportLists]>o <![endif]>40K/55K pumps
<![if !supportLists]>o <![endif]>Intensifiers
<![if !supportLists]>o <![endif]>On/off valves
<![if !supportLists]>o <![endif]>Cutting head
<![if !supportLists]>o <![endif]>Swivels
<![if !supportLists]>· <![endif]>OEM Expert
<![if !supportLists]>o <![endif]>20+ year waterjet OEM experience (via OH Precision)
<![if !supportLists]>o <![endif]>Accept small OEM order
Durable, Compact 40K PSI Pumps
<![if !supportLists]>· <![endif]>Long operation lifetime
<![if !supportLists]>· <![endif]>Highly cost-effective
<![if !supportLists]>· <![endif]>Light weight and compact
<![if !supportLists]>· <![endif]>Contact us for
<![if !supportLists]>o <![endif]>Custom power end
<![if !supportLists]>o <![endif]>50K psi models
<![if !supportLists]>o <![endif]>Private labeling
<![if !supportLists]>o <![endif]>Custom design
QualJet LLC
12819 SE 38th Street, #240
Bellevue, WA 98006
1-866-QUALJET (782-5538)
Fax: 425-378-7776
Email: info@qualjet.com
Website: www.qualjet.com
To unsubscribe the newsletter: unsubscribe@qualjet.com
For newsletter archive:
www.qualjet.com/Newsletter.htm
Copyright ©2005, QualJet LLC