Quality Waterjet Newsletter
–
0
5/30
/200
6
Recycling Abrasive for AWJ Cutting
A question that was frequently asked is whether the abrasive used in AWJ (abrasive waterjet) cutting can be recycled. If recycling is to be performed, how much new abrasive should be added to regain the cutting efficiency? Babu and Chetty published a paper* based on their experimental studies of this subject and here are the highlights.
Their experiments were done with an abrasive waterjet cutting system, running at 225 MPa (32.6 kpsi). Sample material for the cutting tests was aluminum. Two types of India garnet abrasive were used in these tests. One was commercial grade 80 mesh garnet with a bell-curve type distribution of particle sizes. The other was a specially formulated garnet abrasive with five equally distributed particle sizes. Abrasive particles were collected with a special catcher at the exit of the nozzle as well as after cutting. Then fresh garnet (FA) was added with five different proportions, 20%, 40%, 60%, 80%, 100%, to the used garnet.
<![if !vml]>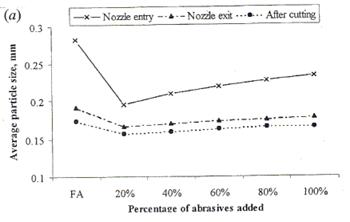 <![endif]>Abrasive particles were significantly disintegrated in the mixing process inside the nozzle. Fresh abrasive (FA) showed a higher level of disintegration than reused ones (see graph to the left). Further disintegration occurred during the cutting process.
Cutting performances are affected by abrasive particle sizes. Depth of cut was reduced as a result of abrasive particle disintegration. Adding fresh abrasive can regain some of it.
The graph to the left showed that a 40% fresh- abrasive addition is most effective. This graph also showed that the specially formulated garnet had 12 to 24% advantage over <![if !vml]>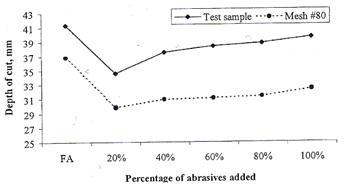 <![endif]>the commercial grade. Understandably surface roughness was also affected by abrasive particle disintegration and its values had a strong correlation with the particle sizes. Kerf width and taper were only marginally affected.
* Babu, M. Kantha & Chetty, O. V. Krishnaiah (2002). Studies on recharging of abrasives in abrasive water jet machining. International Journal of Advanced Manufacturing Technology, 19, 697-703.
Quality Waterjet
Spare Parts Specialist
<![if !supportLists]>· <![endif]>Quality Waterjet Spare Parts
<![if !supportLists]>o <![endif]>Meets/exceeds OEM standards
<![if !supportLists]>o <![endif]>30% longer operation life time than competing products
<![if !supportLists]>· <![endif]>Extensive Parts Coverage for:
<![if !supportLists]>o <![endif]>Flow style, IR Style
<![if !supportLists]>o <![endif]>40K/55K pumps
<![if !supportLists]>o <![endif]>Intensifiers
<![if !supportLists]>o <![endif]>On/off valves
<![if !supportLists]>o <![endif]>Cutting head
<![if !supportLists]>o <![endif]>Swivels
<![if !supportLists]>· <![endif]>OEM Expert
<![if !supportLists]>o <![endif]>20+ year waterjet OEM experience (via OH Precision)
<![if !supportLists]>o <![endif]>Accept small OEM order
Durable, Compact 40K PSI Pumps
<![if !supportLists]>· <![endif]>Long operation lifetime
<![if !supportLists]>· <![endif]>Highly cost-effective
<![if !supportLists]>· <![endif]>Light weight and compact
<![if !supportLists]>· <![endif]>Contact us for
<![if !supportLists]>o <![endif]>Custom power end
<![if !supportLists]>o <![endif]>50K psi models
<![if !supportLists]>o <![endif]>Private labeling
<![if !supportLists]>o <![endif]>Custom design
QualJet LLC
12819 SE 38th Street, #240
Bellevue, WA 98006
1-866-QUALJET (782-5538)
Fax: 425-378-7776
Email: info@qualjet.com
Website: www.qualjet.com
To unsubscribe the newsletter: unsubscribe@qualjet.com
For newsletter archive:
www.qualjet.com/Newsletter.htm
Copyright ©2005, QualJet LLC