Quality Waterjet Newsletter
–
0
5/16
/200
6
Piloted High Pressure Valves
High-pressure valves are important components in waterjetting systems. A piloted valve design was described by Yie* and will be reviewed here.
Existing high-pressure valves have some issues that need improvements. Because of the large force required to open/close the valves in high-pressure applications, bulky air actuators are usually needed. The large force involved in opening/closing of the valve often leads to fatigue problems of valve components. Other issues include low flow capability and leakage.
<![if !vml]>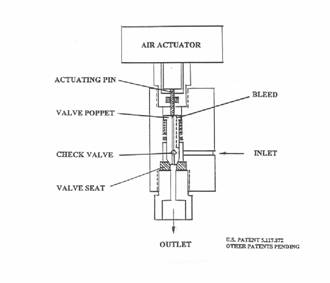 <![endif]>The main concept of this piloted design is illustrated in the diagram. A floating poppet moves between the upper and lower chambers that have fluid connection through a small bleed passage. A small external force (e.g. air actuctor) pushes the actuator pin that, in turn, pushes the poppet down until it is stopped by the valve seat. The valve is then securely closed by the large differential fluid force applied to the top and bottom of the poppet. When the valve needs to be opened, the actuator pin is lift by a small external force and then the central passage is open. Because of the small size of the bleed passage, this causes the pressure in the upper chamber to drop and thus allows the poppet to be pushed upward quickly until it is stopped. The check valve inside the valve poppet prevents upward flow through the central passage once the outlet port is open.
The benefits achieved by this valve design were summarized by Yie as follows:
High and wide pressure and flow capabilities.

Positive opening and closure of the valve port by the strong fluid force.

Absence of pounding between the valve poppet and the valve seat.

Absence of destructive water hammer effect due to the piloted operation.

Versatile design allowing various modes of operation.

Compact size due to much reduced size of the valve actuator.

Much improved reliability and reduced operating cost.
* Yie, G. G. (2001) THE DEVELOPMENT OF IMPROVED HIGH PRESSURE VALVES, Proceedings of the 2001 WJTA American Waterjet Conference, Minneapolis, Minnesota, August 18-21, Paper 59.
Quality Waterjet
Spare Parts Specialist
<![if !supportLists]>· <![endif]>Quality Waterjet Spare Parts
<![if !supportLists]>o <![endif]>Meets/exceeds OEM standards
<![if !supportLists]>o <![endif]>30% longer operation life time than competing products
<![if !supportLists]>· <![endif]>Extensive Parts Coverage for:
<![if !supportLists]>o <![endif]>Flow style, IR Style
<![if !supportLists]>o <![endif]>40K/55K pumps
<![if !supportLists]>o <![endif]>Intensifiers
<![if !supportLists]>o <![endif]>On/off valves
<![if !supportLists]>o <![endif]>Cutting head
<![if !supportLists]>o <![endif]>Swivels
<![if !supportLists]>· <![endif]>OEM Expert
<![if !supportLists]>o <![endif]>20+ year waterjet OEM experience (via OH Precision)
<![if !supportLists]>o <![endif]>Accept small OEM order
Durable, Compact 40K PSI Pumps
<![if !supportLists]>· <![endif]>Long operation lifetime
<![if !supportLists]>· <![endif]>Highly cost-effective
<![if !supportLists]>· <![endif]>Light weight and compact
<![if !supportLists]>· <![endif]>Contact us for
<![if !supportLists]>o <![endif]>Custom power end
<![if !supportLists]>o <![endif]>50K psi models
<![if !supportLists]>o <![endif]>Private labeling
<![if !supportLists]>o <![endif]>Custom design
QualJet LLC
12819 SE 38th Street, #240
Bellevue, WA 98006
1-866-QUALJET (782-5538)
Fax: 425-378-7776
Email: info@qualjet.com
Website: www.qualjet.com
To unsubscribe the newsletter: unsubscribe@qualjet.com
For newsletter archive:
www.qualjet.com/Newsletter.htm
Copyright ©2005, QualJet LLC