Quality Waterjet Newsletter
–
05/08
/200
7
Finishing Artificial Joint with Waterjets
Finishing of artificial joints is very critical because it can reduce wear of the joint components and extend their service life. Wear of joint components causes functional deterioration of the joint as well as other problems associated with wear debris. For this reason the metallic sliding surface of an artificial knee joint is required to have a surface roughness under 10 nm Ra. This is currently achieved only by hand lapping, a labor intensive, costly, and inconsistent process. Seeing the need of an automatic finishing process for artificial joints, Sawano et al.* experimented with an innovative finishing method by using a water jet and a CAD-model-guided motion system.
<![if !vml]>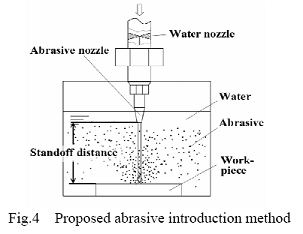 <![endif]>
To achieve a surface finish better than 10 nm Ra, ultra fine abrasive particles (under 1 micron) should be used. A traditional entrainment –type abrasive waterjet has a problem of feeding fine abrasive without getting clogged. In their method, the part to be polished was submerged in water with suspended fine abrasive particles (Fig.4). A pure water jet at 200 MPa was shot at the target surface tangentially (Fig. 5). The whole finishing process was automated by rotating the part and moving the nozzle simultaneously, guided by a CAD model of the part. Their <![if !vml]>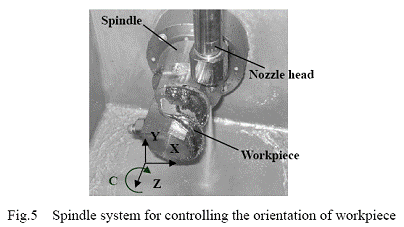 <![endif]>experiment was successful. A metal implant of an artificial knee joint, made of Co-Cr-Mo alloy, was finished to 8.5 nm Ra with 1 nm variation.
* Sawano, H., Warisawa, S., & Mitsuishi, M. (2006) Ultra-precision finishing for an artificial knee joint by means of abrasive waterjet, in Proceedings of the 8th Pacific Rim International Conference on Water Jet Technology, Oct. 10-12, Qingdao, China, pp 308-315.
Beyond High Pressure
Fredrick Equipment

, a recognized distributor of high pressure piping components, is proud to offer

QualJet/OHP's

line of waterjet pumps and OEM replacement parts along with sapphire and diamond orifice replacements, tools, gauges, and accessories. Call toll-free at 1-888-928-3758.
Quality Waterjet
Spare Parts Specialist
<![if !supportLists]>· <![endif]>Quality Waterjet Spare Parts
<![if !supportLists]>o <![endif]>Meets/exceeds OEM standards
<![if !supportLists]>o <![endif]>30% longer operation life time than competing products
<![if !supportLists]>· <![endif]>Extensive Parts Coverage for:
<![if !supportLists]>o <![endif]>Flow style, IR Style
<![if !supportLists]>o <![endif]>40K/55K pumps
<![if !supportLists]>o <![endif]>Intensifiers
<![if !supportLists]>o <![endif]>On/off valves
<![if !supportLists]>o <![endif]>Cutting head
<![if !supportLists]>o <![endif]>Swivels
<![if !supportLists]>· <![endif]>OEM Expert
<![if !supportLists]>o <![endif]>20+ year waterjet OEM experience (via OH Precision)
<![if !supportLists]>o <![endif]>Accept small OEM order
Durable, Compact 40K PSI Pumps
<![if !supportLists]>· <![endif]>Long operation lifetime
<![if !supportLists]>· <![endif]>Highly cost-effective
<![if !supportLists]>· <![endif]>Light weight and compact
<![if !supportLists]>· <![endif]>Contact us for
<![if !supportLists]>o <![endif]>Custom power end
<![if !supportLists]>o <![endif]>50K psi models
<![if !supportLists]>o <![endif]>Private labeling
<![if !supportLists]>o <![endif]>Custom design
QualJet LLC
12819 SE 38th Street, #240
Bellevue, WA 98006
1-866-QUALJET (782-5538)
Fax: 425-378-7776
Email: info@qualjet.com
Website: www.qualjet.com
To unsubscribe the newsletter: unsubscribe@qualjet.com
For newsletter archive:
www.qualjet.com/Newsletter.htm
Copyright ©2005, QualJet LLC