Quality Waterjet Newsletter
–
0
4/04
/200
6
Review of an AWJ Market Survey
A survey* was conducted more than 10 years ago on the abrasive waterjet market. Since then no newer market survey has been available to the public. The results of the previous survey still have some reference value today and its main points will be highlighted here. In the answers for each question category only the most significant numbers of percentages, in a descending order, will be included.
<![if !vml]>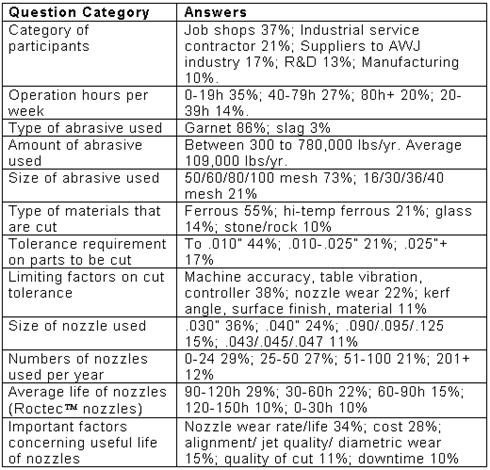 <![endif]>
* Mort, Greg (1995). Results of abrasive water jet market survey. Proceedings of the 8th American Water Jet Conference, August 26-29, Houston, Texas, Paper 19.
Beyond High Pressure
<![if !supportLists]>· <![endif]>Fredrick Equipment, located north of Atlanta, Georgia, has been servicing the southeastern United States waterjet market for 20 years. As a recognized distributor of high pressure piping components, Fredrick is proud to offer QualJet/OHP's line of waterjet pumps and OEM replacement parts along with sapphire and diamond orifice replacements, tools, gauges, and accessories. With over 10,000 parts and perhaps the largest stock of piping components in the US, Fredrick can meet all your waterjet needs. Call toll-free at 1-888-928-3758.
Quality Waterjet
Spare Parts Specialist
<![if !supportLists]>· <![endif]>Quality Waterjet Spare Parts
<![if !supportLists]>o <![endif]>Meets/exceeds OEM standards
<![if !supportLists]>o <![endif]>30% longer operation life time than competing products
<![if !supportLists]>· <![endif]>Extensive Parts Coverage for:
<![if !supportLists]>o <![endif]>Flow style, IR Style
<![if !supportLists]>o <![endif]>40K/55K pumps
<![if !supportLists]>o <![endif]>Intensifiers
<![if !supportLists]>o <![endif]>On/off valves
<![if !supportLists]>o <![endif]>Cutting head
<![if !supportLists]>o <![endif]>Swivels
<![if !supportLists]>· <![endif]>OEM Expert
<![if !supportLists]>o <![endif]>20+ year waterjet OEM experience (via OH Precision)
<![if !supportLists]>o <![endif]>Accept small OEM order
Durable, Compact 40K PSI Pumps
<![if !supportLists]>· <![endif]>Long operation lifetime
<![if !supportLists]>· <![endif]>Highly cost-effective
<![if !supportLists]>· <![endif]>Light weight and compact
<![if !supportLists]>· <![endif]>Contact us for
<![if !supportLists]>o <![endif]>Custom power end
<![if !supportLists]>o <![endif]>50K psi models
<![if !supportLists]>o <![endif]>Private labeling
<![if !supportLists]>o <![endif]>Custom design
QualJet LLC
12819 SE 38th Street, #240
Bellevue, WA 98006
1-866-QUALJET (782-5538)
Fax: 425-378-7776
Email: info@qualjet.com
Website: www.qualjet.com
To unsubscribe the newsletter: unsubscribe@qualjet.com
For newsletter archive:
www.qualjet.com/Newsletter.htm
Copyright ©2005, QualJet LLC