Quality Waterjet Newsletter
–
03
/
21
/200
6
A Non-conventional Design of Intensifier Pumps
One of our goals in publishing these short articles is to rediscover great ideas buried in time. In this issue your attention is directed to a non-conventional intensifier design reported by Bowen * 34 years ago.
This design used a cam to time the stroking of the two plungers (see diagram below). A pre-compression stroke driven by the cam allows one cylinder starts discharging fluid when the other one stops. Test results with just a short tubing between the two cylinders showed that the pressure fluctuation was within 150 psi for an output pressure of 30,000 psi. Tests have been done from 15,000 to 60,000 psi.
<![if !vml]>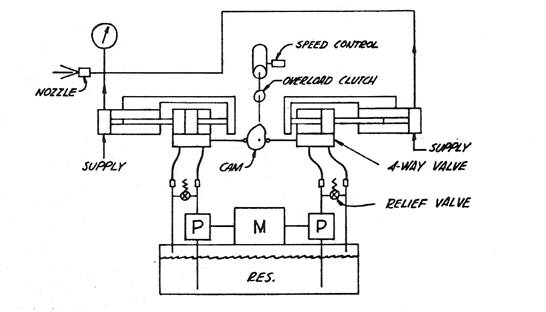 <![endif]>
A special dynamic seal design was also used. A separate seal fluid, which becomes more viscous as the pressure is increased, was pumped, at a higher pressure, into the dynamic seal assembly to create a seal for water and a hydrostatic bearing to center the piston in the cylinder. Test with this seal design along with tungsten carbide plunger/bushings was run at 45,000 psi for 2,000 hours.
A four-way valve design with an open center and two different designs of check valves were also discussed in this paper.
* Bowen, John, "An approach to pulseless packingless pumping." Proceedings of the First International Symposium on Jet Cutting Technology, Coventry, England, April 5 – 7, 1972, Paper C4.
Beyond High Pressure
<![if !supportLists]>· <![endif]>CTC Pressure Products Inc, Specializing in coned and threaded high pressure products, offers the waterjet blasting and waterjet cutting markets a complete line of high pressure valves, fittings, tubing and accessories in maximum allowable working pressure ranges to 100,000 PSI (6,895 bar) in tube connection sizes from 1/8" (3.2mm) O.D. to 1" (25.4mm) O.D. For "competitive" pricing and information, please call 1-814-835-3600, email sales@ctcpressureproducts.com or visit us at www.ctcpressureproducts.com.
Quality Waterjet
Spare Parts Specialist
<![if !supportLists]>· <![endif]>Quality Waterjet Spare Parts
<![if !supportLists]>o <![endif]>Meets/exceeds OEM standards
<![if !supportLists]>o <![endif]>30% longer operation life time than competing products
<![if !supportLists]>· <![endif]>Extensive Parts Coverage for:
<![if !supportLists]>o <![endif]>Flow style, IR Style
<![if !supportLists]>o <![endif]>40K/55K pumps
<![if !supportLists]>o <![endif]>Intensifiers
<![if !supportLists]>o <![endif]>On/off valves
<![if !supportLists]>o <![endif]>Cutting head
<![if !supportLists]>o <![endif]>Swivels
<![if !supportLists]>· <![endif]>OEM Expert
<![if !supportLists]>o <![endif]>20+ year waterjet OEM experience (via OH Precision)
<![if !supportLists]>o <![endif]>Accept small OEM order
Durable, Compact 40K PSI Pumps
<![if !supportLists]>· <![endif]>Long operation lifetime
<![if !supportLists]>· <![endif]>Highly cost-effective
<![if !supportLists]>· <![endif]>Light weight and compact
<![if !supportLists]>· <![endif]>Contact us for
<![if !supportLists]>o <![endif]>Custom power end
<![if !supportLists]>o <![endif]>50K psi models
<![if !supportLists]>o <![endif]>Private labeling
<![if !supportLists]>o <![endif]>Custom design
QualJet LLC
12819 SE 38th Street, #240
Bellevue, WA 98006
1-866-QUALJET (782-5538)
Fax: 425-378-7776
Email: info@qualjet.com
Website: www.qualjet.com
To unsubscribe the newsletter: unsubscribe@qualjet.com
For newsletter archive:
www.qualjet.com/Newsletter.htm
Copyright ©2005, QualJet LLC