Quality Waterjet Newsletter
–
03/20
/200
7
AWJ Cutting of Engineering Plastics
Abrasive Waterjet (AWJ) can effectively cut hard materials such as tool steels. So we know that it has no problem in cutting plastics. However, we don't really know the characteristics of plastic parts cut with AWJs. Last year Seo and Ramulu* presented a paper on this subject. This review will share their main findings.
Their paper described an experimental study of cutting a thermoplastic material MC901 nylon with AWJs. The experimental conditions include water pressure of 250-320 MPa, 80 mesh garnet at 7.8 g/sec flow rate, stand-off distance of 2-5 mm, and cutting speed between 33 and 1350 mm/min. The maximum cutting speed is 1350 mm/min for a 15 mm thick MC nylon. Surface roughness Ra is in the range of 3 to 36.7 mm, greater than that of metals.
By examining the cut surfaces under scanning electronic microscope (SEM), it was found that the material removal mechanism of MC nylon is shearing due to scooping, scratching, and plowing actions of the abrasive particles. Compared to metals, the scratched marks of MC nylon appeared to be more protruded and rounded, probably due to the visco-elastic and plastic nature of the plastic materials with long polymer chains. The polymer chains tend to align with the direction of shearing and remain attached to the cut surfaces as micro burrs (see pictures below). As a result, the surface texture deteriorated. By analyzing the roughness profile, it was found that the AWJ cut surface of MC nylon is negatively-skewed, with peaks and valleys caused by scratch marks and micro burrs. The ratio of the two roughness parameters Rq/Ra is about 1.24, closely resembling that of grinding (1.2).
<![if !vml]>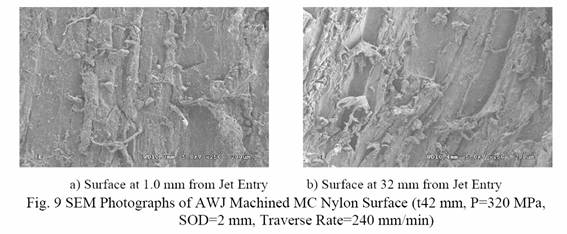 <![endif]>
* Seo, Y.W. & Ramulu, M. (2006) Characteristics of abrasive waterjet machined engineering plastics (nylon), in Wang et al. (ed.), Proceedings of the 8th Pacific Rim International Conference on Water Jet Technology & The 12th China Water Jet Technology Symposium, Qingdao, China, October 10-12, Paper 26.
Beyond High Pressure
New 50K-psi pumps for water blasting.

Contact Mr.

Vittorio

Perregrini

of

FlowSwiss

at [41]91-935-9191, or perregrini@flowswiss.com for quote.
Quality Waterjet
Spare Parts Specialist
<![if !supportLists]>· <![endif]>Quality Waterjet Spare Parts
<![if !supportLists]>o <![endif]>Meets/exceeds OEM standards
<![if !supportLists]>o <![endif]>30% longer operation life time than competing products
<![if !supportLists]>· <![endif]>Extensive Parts Coverage for:
<![if !supportLists]>o <![endif]>Flow style, IR Style
<![if !supportLists]>o <![endif]>40K/55K pumps
<![if !supportLists]>o <![endif]>Intensifiers
<![if !supportLists]>o <![endif]>On/off valves
<![if !supportLists]>o <![endif]>Cutting head
<![if !supportLists]>o <![endif]>Swivels
<![if !supportLists]>· <![endif]>OEM Expert
<![if !supportLists]>o <![endif]>20+ year waterjet OEM experience (via OH Precision)
<![if !supportLists]>o <![endif]>Accept small OEM order
Durable, Compact 40K PSI Pumps
<![if !supportLists]>· <![endif]>Long operation lifetime
<![if !supportLists]>· <![endif]>Highly cost-effective
<![if !supportLists]>· <![endif]>Light weight and compact
<![if !supportLists]>· <![endif]>Contact us for
<![if !supportLists]>o <![endif]>Custom power end
<![if !supportLists]>o <![endif]>50K psi models
<![if !supportLists]>o <![endif]>Private labeling
<![if !supportLists]>o <![endif]>Custom design
QualJet LLC
12819 SE 38th Street, #240
Bellevue, WA 98006
1-866-QUALJET (782-5538)
Fax: 425-378-7776
Email: info@qualjet.com
Website: www.qualjet.com
To unsubscribe the newsletter: unsubscribe@qualjet.com
For newsletter archive:
www.qualjet.com/Newsletter.htm
Copyright ©2005, QualJet LLC