Quality Waterjet Newsletter
–
03/06
/200
7
Optimum Water-Blasting
If you want to achieve optimum performance in your water-blasting applications, you may want to check out a 2001 paper by Wright et al*. Here are the highlights of this paper.
The power of the jet in water-blasting is a function of pressure and flow. For a given capacity of power, is it better off to run a small orifice at high pressure or a large orifice at low pressure? What is the role of stand-off distance? Wright et al. conducted an experimental study to provide answers to these questions.
Tests were done with pressures from 5,000 to 33,000 psi, flows from 5 to 45 gpm, orifice sizes from 0.028" to 0.156", and stand-off distance from 2 to 50 inches. A machinable wax with a threshold pressure of 5,000-6,000 psi and a cement/sand mixture with a threshold pressure of 1,500 psi were used as the test samples. During the tests, passes were <![if !vml]>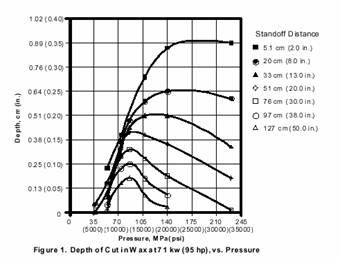 <![endif]>made at a constant speed of 1 ft/sec. Depths and volumes of the kerfs were measured.
Data show that an increase in stand-off distance will reduce the depth of kerfs and there exists an optimum pressure for a given stand-off distance (Figure 1*).
<![if !vml]>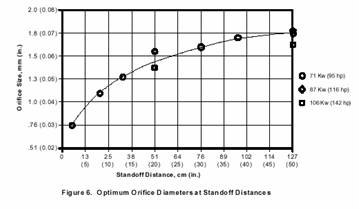 <![endif]>This trend is similar for both test samples and for both the depth and volume of kerfs. This optimum pressure shifts upward for higher horsepower. Based on the data of optimum pressure at a given power, optimum orifice diameter was calculated and plotted as a function of stand-off distance (Figure 2*).
* Wright, D., Wolgamott, J., & Zink, G. (2001) Optimizing water blast power, in Mohamed Hashish (Ed.), Proceedings of the 2001 WJTA American Waterjet Conference, Minneapolis, Minnesota, USA, August 18-21, Paper 49.
Beyond High Pressure
Fredrick Equipment

, a recognized distributor of high pressure piping components, is proud to offer QualJet/

OHP's

line of waterjet pumps and OEM replacement parts along with sapphire and diamond orifice replacements, tools, gauges, and accessories. Call toll-free at 1-888-928-3758.
Quality Waterjet
Spare Parts Specialist
<![if !supportLists]>· <![endif]>Quality Waterjet Spare Parts
<![if !supportLists]>o <![endif]>Meets/exceeds OEM standards
<![if !supportLists]>o <![endif]>30% longer operation life time than competing products
<![if !supportLists]>· <![endif]>Extensive Parts Coverage for:
<![if !supportLists]>o <![endif]>Flow style, IR Style
<![if !supportLists]>o <![endif]>40K/55K pumps
<![if !supportLists]>o <![endif]>Intensifiers
<![if !supportLists]>o <![endif]>On/off valves
<![if !supportLists]>o <![endif]>Cutting head
<![if !supportLists]>o <![endif]>Swivels
<![if !supportLists]>· <![endif]>OEM Expert
<![if !supportLists]>o <![endif]>20+ year waterjet OEM experience (via OH Precision)
<![if !supportLists]>o <![endif]>Accept small OEM order
Durable, Compact 40K PSI Pumps
<![if !supportLists]>· <![endif]>Long operation lifetime
<![if !supportLists]>· <![endif]>Highly cost-effective
<![if !supportLists]>· <![endif]>Light weight and compact
<![if !supportLists]>· <![endif]>Contact us for
<![if !supportLists]>o <![endif]>Custom power end
<![if !supportLists]>o <![endif]>50K psi models
<![if !supportLists]>o <![endif]>Private labeling
<![if !supportLists]>o <![endif]>Custom design
QualJet LLC
12819 SE 38th Street, #240
Bellevue, WA 98006
1-866-QUALJET (782-5538)
Fax: 425-378-7776
Email: info@qualjet.com
Website: www.qualjet.com
To unsubscribe the newsletter: unsubscribe@qualjet.com
For newsletter archive:
www.qualjet.com/Newsletter.htm
Copyright ©2005, QualJet LLC