Quality Waterjet Newsletter
–
02/20
/200
7
Forced Pulsed Waterjets for Cleaning
In this issue, spotlight is cast on the work done by Dr. Vijay and his group on forced pulsed waterjets for cleaning applications. One of their papers by Yan et al.* on this subject is reviewed here. This paper provides an entry point for anyone who is interested in learning about this technology.
A single-orifice forced pulsed waterjet nozzle is shown in the picture below. Oscillation of the tip creates an effect shown in the picture on the right. The large mushroom shaped pulses give pulsed waterjets a superior performance compared to continuous waterjets.
<![if !vml]>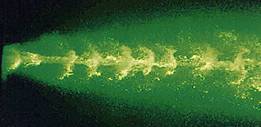 <![endif]><![if !vml]>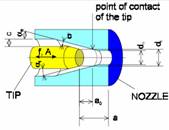 <![endif]>However a single pulsed jet can only cover about 6.5 m2/hr, which is not competitive for cleaning applications. This is why a rotating jet is necessary. A self-rotating forced pulsed waterjet nozzle with four orifices was shown in the picture below. Compared to the single jet nozzle, a major difference is that the single jet nozzle has no interruption in the passage of water below the tip but the four-jet nozzle does. This accounts for <![if !vml]>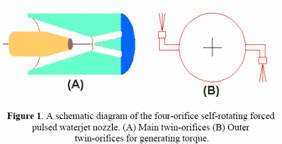 <![endif]>performance loss in the order of 40%, compared to the single jet nozzle. The advantage of this self-rotating four-jet nozzle comes from the fact that any point on the target is under repeated loading condition. For a jet diameter of 0.2 inch (depending on stand-off distance) at the target surface, a rotation speed of 3000 rpm, and a traverse speed of 50 ipm, any point on the path will receive between 24 and 150 impacts (highest at the edge). That is why the pulsed jet has a significant advantage over a continuous jet. The angle between the two forward jets can affect the performance significantly. Based on some test results, the optimum angle is between 10 and 20 degrees and a 12 degree angle was selected for this particular design. The sole purpose of the two outer jets is to provide the torque for rotation. Two 0.020" orifices at an arm length of 2" can provide 25 in-lbf (sufficient for self-rotation). A custom-made swivel is also necessary for the rotation. This self-rotating forced pulsed nozzle, operating at 10,000 psi and 2,800 rpm, successfully passed the tests of several cleaning tasks: e.g. heavily rusted samples at 9.6 m2/hr, bumber caster with 14 layers of hardened paints at 23.2 m2/hr, etc. It was also successfully used in two field tests.
* Yan, W., Bai, C., Tieu, A., & Vijay, M.M. (2001), in Mohamed Hashish (Ed.), Proceedings of the 2001 WJTA American Waterjet Conference, Minneapolis, Minnesota, USA, August 18-21, Paper 36.
Beyond High Pressure
New 50K-psi pumps for water blasting.

Contact Mr.

Vittorio

Perregrini

of

FlowSwiss

at [41]91-935-9191, or perregrini@flowswiss.com for quote.
On Sale: Flow style check valve body (55K) on sale, $50 off the list price $315. Send request to info@qualjet.com.
Quality Waterjet
Spare Parts Specialist
<![if !supportLists]>· <![endif]>Quality Waterjet Spare Parts
<![if !supportLists]>o <![endif]>Meets/exceeds OEM standards
<![if !supportLists]>o <![endif]>30% longer operation life time than competing products
<![if !supportLists]>· <![endif]>Extensive Parts Coverage for:
<![if !supportLists]>o <![endif]>Flow style, IR Style
<![if !supportLists]>o <![endif]>40K/55K pumps
<![if !supportLists]>o <![endif]>Intensifiers
<![if !supportLists]>o <![endif]>On/off valves
<![if !supportLists]>o <![endif]>Cutting head
<![if !supportLists]>o <![endif]>Swivels
<![if !supportLists]>· <![endif]>OEM Expert
<![if !supportLists]>o <![endif]>20+ year waterjet OEM experience (via OH Precision)
<![if !supportLists]>o <![endif]>Accept small OEM order
Durable, Compact 40K PSI Pumps
<![if !supportLists]>· <![endif]>Long operation lifetime
<![if !supportLists]>· <![endif]>Highly cost-effective
<![if !supportLists]>· <![endif]>Light weight and compact
<![if !supportLists]>· <![endif]>Contact us for
<![if !supportLists]>o <![endif]>Custom power end
<![if !supportLists]>o <![endif]>50K psi models
<![if !supportLists]>o <![endif]>Private labeling
<![if !supportLists]>o <![endif]>Custom design
QualJet LLC
12819 SE 38th Street, #240
Bellevue, WA 98006
1-866-QUALJET (782-5538)
Fax: 425-378-7776
Email: info@qualjet.com
Website: www.qualjet.com
To unsubscribe the newsletter: unsubscribe@qualjet.com
For newsletter archive:
www.qualjet.com/Newsletter.htm
Copyright ©2005, QualJet LLC