Quality Waterjet Newsletter
–
01/23
/200
7
Impact of Abrasive Type on AWJ Cutting Efficiency and Nozzle Wear
Typical abrasive used in AWJ cutting is almandine garnet. There are many different sources of almandine garnet around the world. The impact of abrasive type on AWJ cutting efficiency and nozzle wear is a common concern. Foldyne et al.*'s research study on this subject was published in a 2001 paper and here is a review of this paper.
Their experimental study compared three different types of garnet and one type of Olivine abrasive to the reference garnet Barton HP80. Cutting tests were done on wedge shaped samples of mild steel and granodiorite rock. The average value of maximum depths of 5 cuts was used as the cutting performance indication. Nozzle weight loss within 2 hours of cutting was used to predict nozzle life. Barton HP80 garnet was used as the reference abrasive for comparison. Below is a summary of selected data.
<![if !vml]>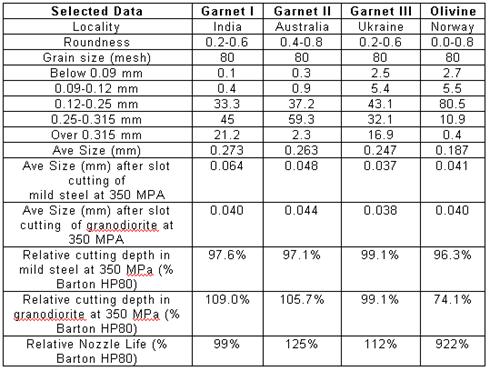 <![endif]>
Authors conclude: Coarser abrasives are more efficient in cutting granodiorite rock than cutting mild steel; Olivine is more efficient in cutting mild steel than cutting granodiorite rock; No. II and III garnet types have up to 25% improvement in nozzle life while Olivine can have as much as 9 times of nozzle life improvement over garnet.
* Foldyne, J., Martinec, P., & Sitek, L. (2001) Testing of mineral types of abrasive for abrasive water jet cutting, in Mohamed Hashish (ed.), Proceedings of the 2001 WJTA American Waterjet Conference, Minneapolis, Minnesota, August 18-21, Paper 22.
Beyond High Pressure
New 50K-psi pumps for water blasting.

Contact Mr.

Vittorio

Perregrini

of

FlowSwiss

at [41]91-935-9191, or perregrini@flowswiss.com for quote.
Quality Waterjet
Spare Parts Specialist
<![if !supportLists]>· <![endif]>Quality Waterjet Spare Parts
<![if !supportLists]>o <![endif]>Meets/exceeds OEM standards
<![if !supportLists]>o <![endif]>30% longer operation life time than competing products
<![if !supportLists]>· <![endif]>Extensive Parts Coverage for:
<![if !supportLists]>o <![endif]>Flow style, IR Style
<![if !supportLists]>o <![endif]>40K/55K pumps
<![if !supportLists]>o <![endif]>Intensifiers
<![if !supportLists]>o <![endif]>On/off valves
<![if !supportLists]>o <![endif]>Cutting head
<![if !supportLists]>o <![endif]>Swivels
<![if !supportLists]>· <![endif]>OEM Expert
<![if !supportLists]>o <![endif]>20+ year waterjet OEM experience (via OH Precision)
<![if !supportLists]>o <![endif]>Accept small OEM order
Durable, Compact 40K PSI Pumps
<![if !supportLists]>· <![endif]>Long operation lifetime
<![if !supportLists]>· <![endif]>Highly cost-effective
<![if !supportLists]>· <![endif]>Light weight and compact
<![if !supportLists]>· <![endif]>Contact us for
<![if !supportLists]>o <![endif]>Custom power end
<![if !supportLists]>o <![endif]>50K psi models
<![if !supportLists]>o <![endif]>Private labeling
<![if !supportLists]>o <![endif]>Custom design
QualJet LLC
12819 SE 38th Street, #240
Bellevue, WA 98006
1-866-QUALJET (782-5538)
Fax: 425-378-7776
Email: info@qualjet.com
Website: www.qualjet.com
To unsubscribe the newsletter: unsubscribe@qualjet.com
For newsletter archive:
www.qualjet.com/Newsletter.htm
Copyright ©2005, QualJet LLC